Chicken New Orleans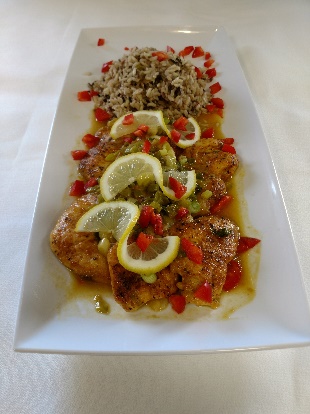 Pound the chicken to ¼ inch thickness and cut into 4 – 6 equal pieces. Cover both sides of chicken with Cajun spice then dredge in flour and set aside.

Melt margarine in a large skillet over medium-high heat. When bubbles begin to form at edges of the pan carefully add the chicken. Cook for 2-3 minutes (do not shake the pan), until the bottom of chicken starts to brown. Turn over chicken, after one minute adds scallions, lemon juice, and wine and, now, shake the pan in a back and forth motion.

Add the chicken stock. Continue to shake the pan and cook for another minute or 2 until sauce thickens. Serve with your favorite rice or pasta.


Ingredients
Shown with Brown & Wild Rice Fusion
Serves 2
12 oz. skinless Boneless Chicken Breast
Flour for Dredging
1 ½ tsp. Uncle Bud's Cajun Spice
One and a half cups chopped Scallions
Three TBS butter or margarine
Juice of a half lemon
2 ozs dry white wine
6 ozs chicken stock
---
Roast Pork Tenderloin – Balsamic Glaze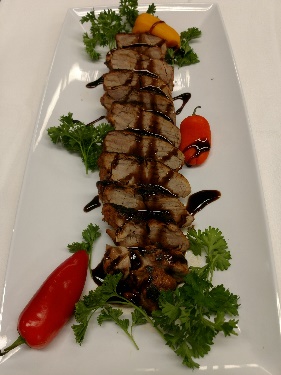 Roast Pork Tenderloin
Pre-heat oven to 350. Pre-heat a cast iron skillet. When the pan is hot add the oil and then the pork and brown on all sides. Put the skillet in the oven and roast for approximately 25-30 minutes or until an internal temperature of 155. Slice and finish with the glaze.

Balsamic Glaze
In a small, non-reactive pan whisk the vinegar, the first 2 oz of water and sugar together and heat until almost boiling then whisk in the water-cornstarch mixture and cook until thick, about 1 minute.



Ingredients
Serves 2
Roast Pork Tenderloin
1 Pork Tenderloin (approximately 1 – ¼ lb.) Trimmed of all silver skin.
2 tsp. Uncle Bud's BBQ Spice
2 TBS cooking oil
Balsamic Glaze
4 oz balsamic vinegar
2 oz water
2 TBS sugar
2 oz water mixed with 2 TBS corn starch.
---
Chicken Jambalaya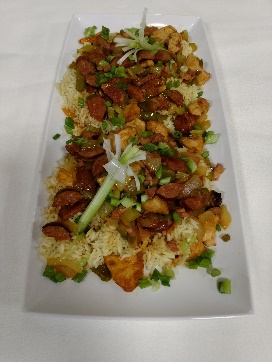 Cut chicken, season with 2 tsp. Uncle Bud's Cajun Spice and then cover chicken with flour and set aside.
Heat cooking oil in a large skillet, add the sausage and ham (if using) and cook for 2-3 minutes, or until sausage starts to brown. Remove sausage with a slotted spoon, leaving the oil in the pan, and set aside.

Return the pan to med-high heat, add the margarine, when it starts to bubble, add the chicken in a single layer in the pan. Let cook for 2-3 minutes without shaking the pan, until the chicken starts to brown on the bottom. Flip the chicken and move to the sides of the pan. Add the trinity (onions, celery, peppers) to the center of the pan and cook for 2-3 minutes mixing chicken and vegetables together. Add the sausage(ham) and tomatoes, Stir together and cook for another 2-3 minutes until the veggies are tender. Now add the Franks and the chicken stock. Continue to cook for another 3-4 minutes, while stirring, until sauce thickens. Stir in the fresh parsley and mix together with cooked rice.
Ingredients
Serves 4-5
1 cup chopped onion
1 cup chopped celery
1 cup chopped green pepper
1 cup chopped tomato
¾ lb. andouille sausage sliced
1 lb. skinless boneless chicken cut into bite size pieces
¼ lb. Tasso ham (optional)
3-4 oz. flour for dredging
2 oz. cooking oil
¼ cup margarine
2 tsp. Uncle Buds Cajun Spice
¼ cup Franks Red Hot
12 oz. strong chicken stock
2 TBS. chopped fresh parsley
3 cups cooked rice(preferably converted rice made with chicken stock).